How to tell if your child could benefit from extra help, what options are out there, and how to make the best choice for everyone involved
If you've decided your child needs a tutor – or someone else has suggested it to you – it's easy to feel like you've done something wrong and start to panic. What if it's too late and they never catch up? What if it's too much for them? How will I know the tutor is a good one? How do I even find a tutor?
This isn't helped by the forest of information that's out there on the internet. It can feel like there are too many options and no clear advice on how to decide what's best for your teen and your family.
This guide covers the main things to look out for when exploring tuition. We'll go into how to tell if your child could benefit from a tutor, the different types of tutoring available, and how to make the best choices for everyone involved.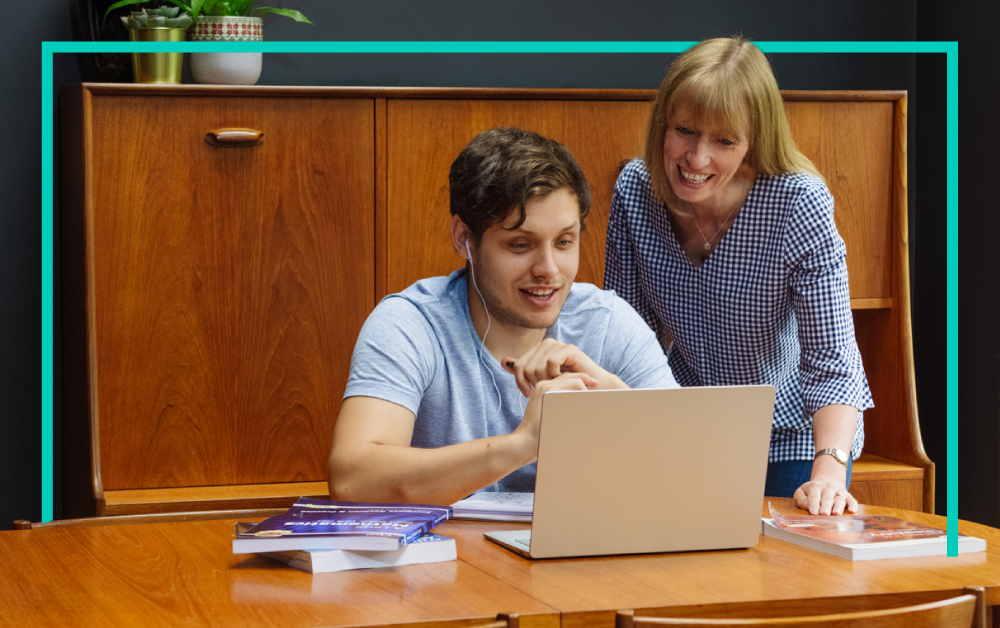 Why might my child need a tutor?
There are five main reasons why parents seek tutors for their teens…
Because their child struggles with a particular subject (or subjects) and aren't able to make the same progress as their peers.
Because their child isn't challenged enough by the work covered in class and they need a way to develop to their full potential.
Because they've decided to supplement their kid's classroom learning with one-to-one support to make sure nothing's falling through the cracks.
Because their child really lacks confidence which is preventing their progress.
Because their child needs to get certain grades to get a place at university.
The first reason is the most common and is how lots of people think tuition should be used. In fact, parents are increasingly choosing to incorporate one-to-one tuition as a permanent strand of their child's education (reason 3). And everyone's at it – the Education Endowment Fund (EEF) reports that 1 in 3 secondary school kids in the UK has a tutor. So you're in good company – even if other parents don't talk about it.
How to find out if your child needs a tutor:
Understand if their approach to learning is holding them back
Are they keeping up with class averages in school tests?
Are they too shy to contribute in lessons?
Do they lack confidence in their subjects?
Are they working hard but not making progress?
Do they struggle with their homework? (And do you feel like you can't help?)
Has their teacher recommended they get extra help?
Is your child bored or disruptive in class? (can be a sign of frustrated cleverness or not understanding the content covered)
Understand what barriers there may be at school
Are their classes too big to get personalised help?
Do their teachers stay the same or is there a high turnover of staff?
Are their peers getting tuition?
Is there extra help available at school?
The answers to these questions should paint a picture of how well they're getting on with the current help they have access to. If their environment at school or their own learning style is preventing them from doing their best, it's a good idea to explore getting a tutor.
Finding a tutor – What are the options and how should I choose?
Here's a quick look at the main types of tutoring available in the UK now.
Agencies – these are organisations that match you with local, in-person tutors. They're expensive and hyper-local (i.e. if you live in the countryside, forget it).
Online tuition – with these services, you can choose from a broad range of tutors for one-to-one online lessons – so you're more likely to find a tutor who's right for your child. And it's flexible (since no one has to travel) making it a great fit for busy families. Not ideal for things like piano lessons.
Independent tutors – these are tutors who offer tuition outside of an organising body. Often ex-teachers, they're hard to come by and often fully-booked. Like all in-person services, teens can find sitting side-by-side with tutors in their homes a bit awkward.
Tuition centres – these centres provide small-group tuition outside of school hours and on weekends. They're affordable but lose out on the impact of one-to-one support as the content isn't tailored to individual students.
Online directories – these are websites where independent tutors can advertise their services – such as Gum Tree. These generally have few/zero quality checks so you'll have to be discerning if you go down this route. Some charge you for tutors' contact details.
Lots of savvy parents are switching to online tutoring, taking in both the flexibility and cost savings together with a broader choice of quality tutors. But different options will suit different children.
"When I first looked into a tutor I did not even think about having an online tutor but as we have working commitments, we thought we would try it, it was worth it. My daughter got more confident each lesson & James really helped explain in a way she understood. Couldn't recommend it enough."

Angela, MyTutor parent
With certain types of tutoring, you'll be limited with your choice of tutors. i.e. they'll be one of a small handful in your local area or you'll be allocated someone who's free by an agency. With other types of tutoring, you'll be in a position to choose who's best for your child.
Choosing a tutor can be something parents struggle with. But it comes down to 5 basic considerations:
Is it someone your child will engage with? Rapport is really important for building confidence and helping kids ask questions that grow their understanding. It's why older siblings and other near-peer tutors work so well for teens.
Is the tutor good at communicating? Teaching qualifications aren't always the best markers for communication skills (we all had a teacher who just made us copy notes from the board). If you can meet with a tutor for a free intro session before committing to lessons that's a big plus. Lots of students are audio-visual learners these days too, so understand what tools they have at their disposal to make learning interactive.
Does the tutor have a good understanding of the exam board/topics being taught? Again, annoyingly, qualifications alone aren't always enough of an assurance here. Take into consideration how up-to-date the tutor is with the curriculums and any recent changes. It could be that a student-tutor has a better grasp of teaching the current syllabus than a retired teacher.
Logistics – is it someone YOU can work with? Is the tutor able to fit into your family schedule? Will you have to be on-hand to drive somewhere or will you feel obliged to tidy the house if they're coming round? Do you have control over when lessons take place? How easy is it to reschedule? (Life happens sometimes). Are they within your budget? How will they involve you in the progress they're making with your child?
Is the tutor trusted by other parents? A great way of gaining confidence in a tutor is from other parents. You might be referred to a local, in-person tutor by a friend or if you're pursuing online tuition, you can see lots of honest reviews left by parents like you on tutors' profiles. We're social creatures and if we see that something's worked for someone else, it gives us the confidence to make the same decision for ourselves.
There'll be other considerations that are unique to your situation – such as SEN, cultural, and personal health requirements – but if you work through these 5 main areas, you should be able to narrow down your choice of tutors.
How do I make tutoring work for everyone involved?
If we think of tutoring as a piece in the puzzle of a child's education, it makes sense to consider the other pieces it needs to fit in with. These include: your child, your family, your tutor, your child's school and any after-school clubs.
Your child
Your child needs to buy-in to the idea of tutoring for it to work best. This can be hard as they can feel like they've 'failed' or that they're 'stupid' and can perceive tutoring negatively as a result. It's best to frame tuition as a stress-reliever – something that's going to boost their confidence and give them control over their own progress. Once they understand the benefits, it's good to involve them when choosing a tutor (where possible). If your child feels consulted in the process they're likely to be more open to the idea.
Your family
Tutoring can put a strain on the rest of your family. If you have a tutor to your house, siblings/partners/pets will need to be quiet and out-of-the-way. You may feel obliged to tidy or 'host' the tutor when you could be doing other things. Alternatively, if you go to a tutor's house, taxiing your child to-and-fro may neglect your other kids' needs and the demands of your own schedule. It's hard! When choosing a tutor, try to find a solution that's going to fit into family life and not create more work for you. Online tuition is especially good here as it's easy to arrange/reschedule and there's no travel involved.
Your tutor
To get the most out of tutoring, it's worth developing a good working relationship with your child's tutor. Clear communication will help make feedback and scheduling lessons as smooth as possible. The instant messaging tools on online platforms means you can arrange lessons flexibly (and there's a written record of lesson feedback) but in-person tutors can be accommodating too if you're prepared to work at it. If tutors are kept in the loop, they'll be much more able to fit around you, rather than you around them. Beware of incurring cancellation charges for re-arranging lessons though. It's best to check what the tutor's policy is right at the start.
Your child's school
Tutoring works best when it's supporting good classroom teaching. Some teachers may take tutoring as a slight on their abilities but the truth is they complement each other brilliantly. The classroom is where the curriculum is taught in a structured and social environment. It is paced and covered systematically for the whole class – which often has students of mixed abilities. One-to-one tuition allows pupils to home in on their learning gaps or stretch in areas of particular interest in a learning style and pace that suits them. Talk to your child's teacher and find out what areas they should be focusing on in their one-to-one sessions. Again, if teachers feel consulted, they'll be more open-minded about their students having tutoring. This twin strategy of school + tutoring is becoming increasingly popular in the UK, so you probably won't be the first parent to bring it up.
Extra-curricular activities
After-school clubs and activities teach kids some of their most important lessons about teamwork, discipline and perseverance. It's important that tuition doesn't take the place of these. When choosing what type of tutoring will fit best into your lifestyle, consider how to fit it around your child's outdoor, creative and physical pursuits.
How do I know if tuition is working?
Before you start, have some clear goals of what you want to achieve from tuition. It'll make it much easier to measure progress. Once you've started working with a tutor, there are a few ways to measure impact:
Ask your child if they're finding the sessions useful
See if there's any difference in your child's attitude to homework/school subjects Are they finding their homework easier?
Discuss your child's progress with their tutor
Check whether your child's test scores at school are getting better
Ask your child's teacher if they've noticed an improvement in their confidence/grades.
When tuition works well, you should see a boost in your child's confidence and their grades too. They should feel empowered in their learning and engage with their lessons more at school.
And what about if tuition isn't working for my child?
If your child becomes nervous about their tuition sessions or overwhelmed with prep work for them, raise specific feedback to your tutor and see if it improves. If not, it's probably a good sign that you should find a different tutor, try a different type of tuition or re-evaluate whether tuition is the right option for your child.
Whether or not tutoring is the right option for your child, this guide will hopefully have given you some useful ways to start gathering information. At MyTutor, we understand the hectic lives of families with teenagers, so we've made it easier to find great tutors who deliver results, making life less stressful for busy parents doing their best.
As the UK's leading platform for online tuition, we're on a mission to bring life-changing tuition to all. Our tutors are personally interviewed and work online with pupils from all walks of life in our interactive lesson space. They have proven to boost confidence and raise results by an average of one whole grade over a term, often more. Want to find out if online tuition could work for you? Give one of our Tutor Experts a call. They'll be able to answer your questions and help you find the best tutor for your child. Call 020 3773 6024 or email us at support@mytutor.co.uk.