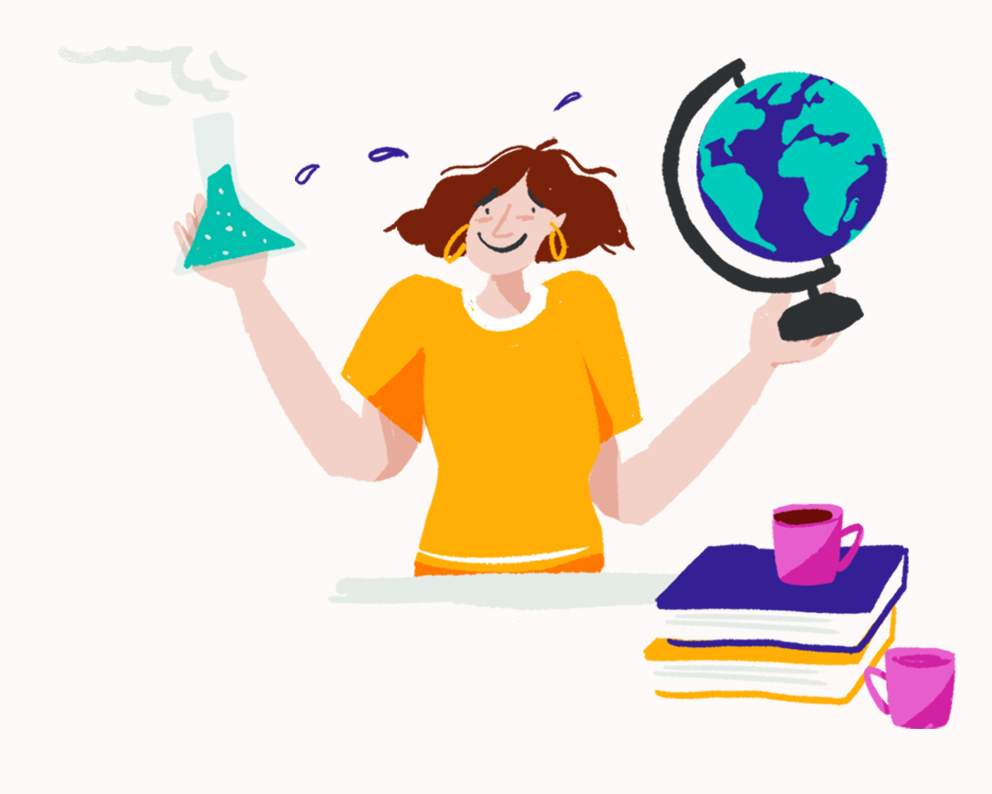 With exam season on the horizon, your teen will be gearing up for revision time. As part of our Get Prepped series this month, we're sharing the best ways you can help. Creating a quiet and calm study area for them at home will help your teen focus and get in the zone. Here are our 7 top tips for helping them to create a great study set-up at home.
1. Find a room with a door
This might not always be possible, but this can be very helpful for your teen to shut out the world, while the rest of the family continues life as normal. It could help them focus more than perching at the end of the kitchen table. They won't have to deal with as many distractions and they'll feel like they have their own space, minus the FOMO (fear of missing out). If a separate room isn't viable, find a quiet corner of the house.
2. Set up their space
A desk or table will help them sit comfortably, while a comfortable adjustable chair will help them avoid neck, back or wrist strain. Here's a guide on setting up their desk and chair so it's right for them. Plenty of natural light is also helpful.
Try to declutter this area before they get started. This way, your teen has the space to keep their laptop, textbooks and notes here. Check with the school whether they provide flashcards or planners, and if not get ready to supply these yourself if necessary.
3. Keep healthy screen and social media habits
Your teen likely spends a lot of time on social media anyway, and during revision periods the temptation to connect with friends can increase. While some screen time can be positive for their mental health, the opposite is true when social media fuels feelings of anxiety. 
Try to set some ground rules at home during study time – encourage them to turn their phone off or at least app notifications. You can also help to model this behaviour and they'll be more likely to follow your lead. Check out our guide to getting a healthy screen time balance.
4. Encourage them to only use it for studying
Help them to draw healthy boundaries between study time and free time. Encourage them to use this space for studying only, while the sofa, their bed or dining table is for free time. This can prevent the line between being 'on' and 'off' from getting blurred and helps to ward off stress.
5. Help them structure their days
When your teen is revising during school holidays or study leave, they might struggle to organise their days. Without the engagement of peers, motivation and energy can take a dive. 
Help your child set up a revision timetable that will work for them and covers the subjects they need –this could be a large wall calendar to keep track or they can use an online calendar that syncs to their phone and laptop. Encourage them to divide up periods of study with active breaks, and remind them to move and go outside, to help them feel refreshed.
6. Speak to their teachers
Your teen's teacher should be their first port of call to find out what they should be revising across the coming months. Schools have different ways of communicating with their pupils and parents, so whether it's email, Google classroom or a schools app, make sure you and your teen keep an eye out. 
7. Find personalised support
Self-study and revision is an incredibly hard skill to master. It's worth finding an online tutor who can help your child fill in any gaps in their knowledge before exams start. At MyTutor we offer one-to-one tuition at GCSE, A Level and IB. Our handpicked tutors give personalised learning in over 40 subjects including online english lessons, online maths lessons and online science lessons. It really works too, and we see on average a whole grade's improvement in 12 lessons.
8. Keep an eye on their mental health
Exam periods can be challenging and some teens can put a lot of pressure on themselves to get the best grades. A recent study showed that Generation Z (today's teens) are more prone to perfectionism and have an overwhelming fear or failure. Similarly, a Financial Times report found a marked rise in worry and negative feelings about life in children across the last 10 years. 
It's more important than ever to look out for signs that your child is struggling with low mood, anxiety, stress or overwhelm. Encourage them to make plenty of time to relax and unwind each day, and leave time to have a chat and check in with how they're feeling. There are also lots of great services you can call on for support, such as Kooth and YoungMinds.
So, your teen doesn't need fancy stationery or mountains of space, they just need a peaceful spot where they can get their head down and study. By encouraging them to balance study with downtime and explore their own revision styles and strategies, they'll be more likely to feel motivated and ultimately do their best when the exams start.