The MyTutor Tutor Awards 2021
As we all know, the last two academic years have been hugely disrupted – yet every student, teacher, tutor and parent out there did their best through thick and thin.
At MyTutor, we've been impressed and inspired by the lengths our tutors go to every day to help their students. Anyone who's experienced a MyTutor lesson (or peered over the shoulder of someone who's having one) knows it's about much more than just improving grades. Our tutors help students believe in themselves, enjoy their learning and achieve what they're capable of – in the classroom, in the exam hall and in life.
To reward some of our best tutoring talent each year, and reveal just a glimpse of the MyTutor magic that goes on every day, we ask parents and students to nominate their favourite tutor for one of three awards. These are the Best Confidence Booster, Best Mentor and Best Success Story. Keep reading to see how we picked our three winners, and how they each changed their students' lives this year.
From 500 down to 3
In August we asked MyTutor parents and students to nominate their tutor, and we didn't have to ask twice! Hundreds of nominations came rushing in, each with a heartfelt written nomination about how their tutor had impacted them or their child. In the MyTutor office, with tissues at the ready, we read through each and every nomination and carefully narrowed the list down to just 15 – 5 in each category. There were so many touching stories, and there wasn't a dry eye in the office by the time we'd read through them all.
With our shortlist of 15, we brought in a steely-eyed judging panel to pick our final winners. Our panel was made up of four key members of our MyTutor community: Zac Rawlinson, a teacher and Head of Year from Featherstone High, one of our partner schools; Alana Rose Prior, one of winning tutors from last year's Tutor Awards; Melinda, a MyTutor mum, and Bertie Hubbard, our co-founder and CEO. Each of them brought their own unique perspective from the world of education to the table, and now we're excited to announce to you our final three winners.
Here are winners of the tutor awards 2021, and how they changed their students' lives this year.
Best Mentor
At MyTutor, our tutors are much more than grades-boosters. Because they're all current students or recent grads from UK universities, they're just a few years ahead in their education compared to teens. This means that as well as having the subject and exam knowledge needed to give great lessons, they also double up as role models and mentors to their students. They explain things in a way kids understand, and they can share their own GCSE, A Level and university application experience to help them through their educational journeys.
There were nearly 200 entries for this prize, which says just how many of our tutors help their students in this way. From our nominations and shortlist, we're happy to announce that Matthew S is this year's winner of the Best Mentor prize. Matthew is a Maths and Statistics student at Sheffield University, and he tutors those subjects as well as French and Economics. He was nominated for the impact he had on his student Theo in GCSE Maths.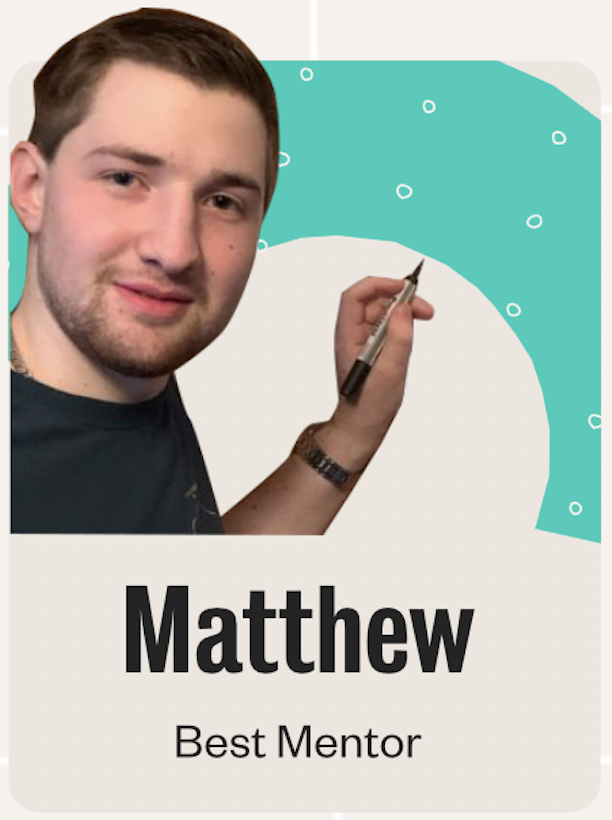 Here's what his student's mum, Vanessa, had to say:
"My son asked for a maths tutor and after finding Matthew S. on the MyTutor website, we asked for a free meeting and that sealed the deal. My son wanted to improve his potential grade for GCSE in 2022, so we began weekly lessons with Matt in the Spring of 2021. Theo hit it off with Matt immediately! Matt is at university doing a MSc in Mathematics and Statistics and lives every day for Maths. He is so enthusiastic about his subject it is infectious. He is always on time, fully prepared with a lesson plan and is a natural teacher. He volunteers as leader for Duke of Edinburgh and really enjoys spending time with young people and mentoring them.
He is genuinely interested in my son's life as well as his mathematical capability and offers him advice in an adult and mentoring way. Matt has given my son such confidence in Maths but in other aspects of his life too. Their relationship is not just tutor/student, but mentor/mentee, friend and role model. I feel blessed to have found Matthew S. on MyTutor. Thank you Matthew for everything you have done for Theo! He is one in a million and if cloning were possible, he would be the first on my list!"
We haven't worked out how to clone our tutors just yet, but until then, congratulations Matthew!
Best Confidence Booster
As well as being powerful role models for their students, one of the biggest impacts our tutors have is in building up their confidence. That's the thing about 1-1 learning – there's no embarrassment about not getting something the first time, and students can ask as many questions as they like and go over tricky topics as many times as they need until they've got it nailed. Our tutors know that by encouraging their students every step of the way, celebrating their small and big wins, and encouraging them as individuals, they can achieve their full potential.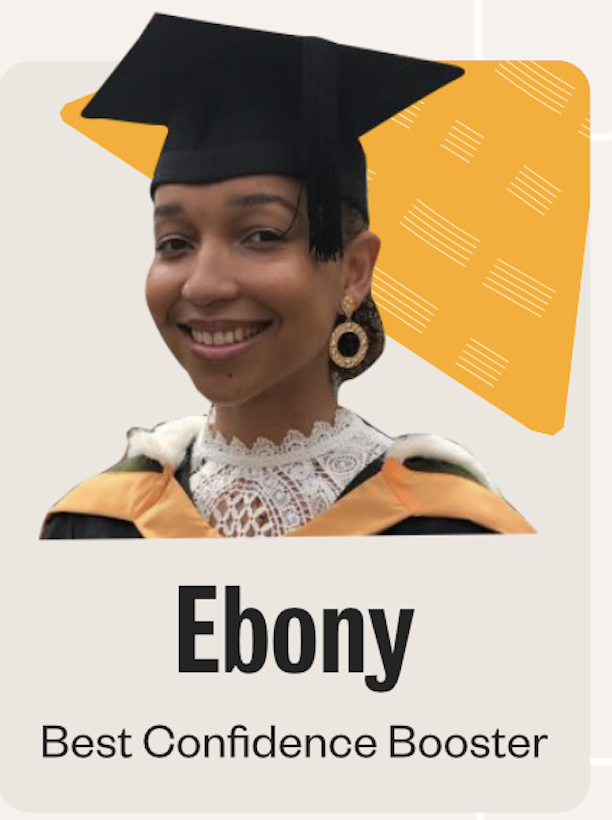 We had hundreds of nominations in this category, and it took a lot of careful judging to narrow them down to just one winner, but here we go. This year's winning tutor of the Best Confidence Booster is Ebony S. Ebony recently graduated with an MSc in Biological and Bioprocess Engineering from Sheffield University, and she tutors all three Sciences and Maths. Here's what their student's mum Miranda had to say:
"We found Ebony after lots of searching and reading the profiles of tutors on My Tutor. They all sounded so good, it was hard to choose! My daughter picked Ebony and from the first lesson she was brilliant. My daughter was predicted a 7 for maths GCSE in year 10 but with COVID her grade was dropping and she had massively lost all confidence in her maths ability – she was in a top set but was crying every day over maths. Her grade had slipped to a 4/5 and she needed a 6 to get into sixth form. Ebony was very calm and reassuring. She listened to my daughter and helped her with any topics she needed to work on. She gave her lots of praise and reassurance as they worked together and soon the crying stopped and my daughter's mindset re maths changed for the better! Ebony's subject knowledge was great; she always knew what topic my daughter was referring to and had lots of example questions to work through. Ebony responded quickly to messages and was there for my daughter for several vital months! Most importantly, my daughter loved her tutor sessions and was even happy doing Ebony's 'homework'. Today we have found out that she achieved a 6 in maths, which is what she needed to get."
Congratulations Ebony!
Best Success Story
With a bit of confidence and a role model, our tutors get amazing results on paper too. The combination of mentoring, confidence-boosting and our tutors' relevant expertise is a powerful recipe for academic success – whether that's getting over the pass line, or pushing results up to a 9 or an A*. MyTutor students improve, on average, by a whole grade in 12 lessons – and it's often a lot more than that.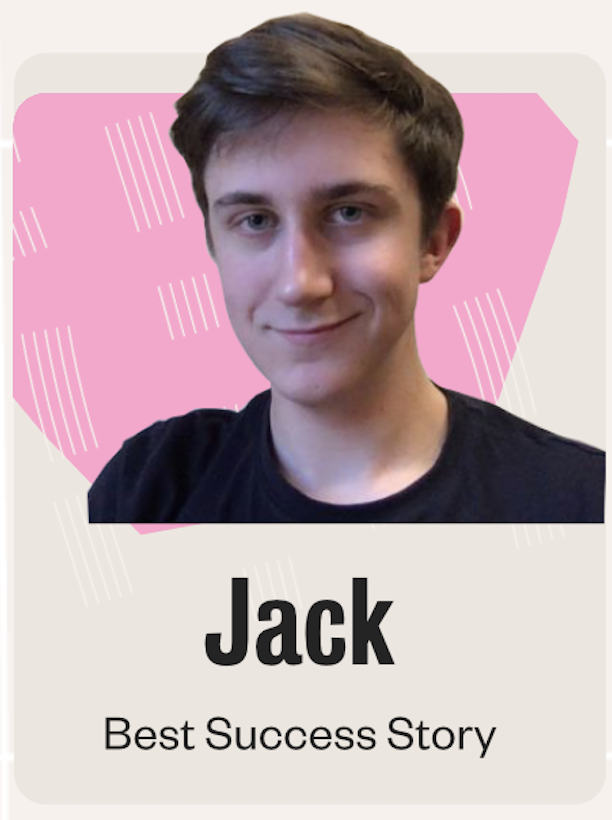 We saw some incredible turnaround stories from this year's nominations, which makes the winner in this category even more impressive. We're happy to announce that this year's winner of the Best Success Story awards is Computing, Maths and Physics tutor Jack R! Jack is currently studying for a Masters in Computer Science at Durham University, and he helped his student Gabriela do a total u-turn with her GCSE Computer Science. Here's what Gabriela's mum had to say:
"Jack is truly gifted in his ability to motivate, build confidence and ensure success with incredible empathy and patience. Our daughter was predicted a grade 3 in Computer Science and Jack has taken her in just one year to a grade 8!! Our daughter was recently diagnosed with ADHD with Co Morbidity and Hyper Mobility. Her diagnosis showed that her intellectual level was extremely high and therefore she should, given the correct framework and approach from a Teacher be able to deliver her full potential. Sadly this was not recognised or adapted to in school. This resulted in a very unhappy, unmotivated child. Jack transformed this and rebuilt her confidence, taught her the entire subject and then revisited areas of weakness too. His lessons were balanced and well delivered with just the right mix of work and fun to keep a child with attention issues engaged. Our daughter no longer believes she is a failure or no good at anything. Thanks to Jack she has been able to realise her real potential and show that she simply learns in a different way to most of her class. We are sure Jack will say he was just doing what was needed but he has helped a child that was struggling and frustrated at life engage again with education. We will be forever grateful to him."
Jack has even told us that he's planning to become a teacher eventually, and we know his future students will be really lucky to have him.
A huge congratulations again to each of our winning tutors, who'll be receiving a MyTutor goodie bag as well as a recommendation on their LinkedIn profile from our CEO, Bertie Hubbard. We'd also like to say a huge thank you to every tutor who inspired, motivated, mentored and encouraged their students this year – you're all absolute legends.
If you'd like to find a tutor like Matthew, Jack or Ebony for your child, give us a call on 0203 773 6024 or email support@mytutor.co.uk, and we'll help you find the perfect match.