MyTutor is delighted to have been shortlisted as a finalist in the 2017 Education Investor Awards.
The annual Education Investor Awards promote excellence and celebrate innovation in the business of education. The Awards are split into the following categories: advisory and finance, education property, content and education provision, suppliers, and grand prix. Under the category of content and education provision, MyTutor has been nominated as the private tutoring company of the year.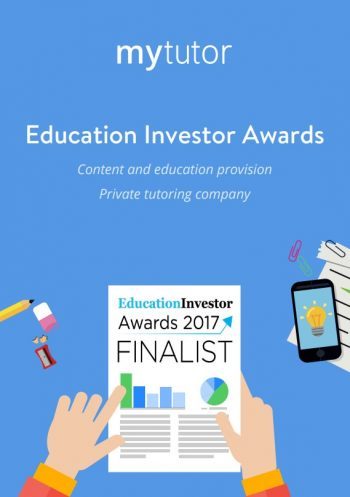 "After decades of improvements to our understanding of how we teach and learn, there's a clear opportunity to drive innovation in education at a pace previously reserved for well-funded sectors such as healthcare, transport, and financial services. Parents and headteachers are clearly frustrated by the current state of the tuition industry, and our most recent round of funding positions MyTutor to set a new standard. I'm thrilled that the 2017 Education Investor Awards have recognised the impact of our work." – Bertie Hubbard, CEO and Co-Founder.
This year the winners of the Education Investor Awards will be announced on Tuesday 5 December at a gala dinner at the Hilton on Park Lane, London. More than 700 guests are due to attend.
Keep your fingers crossed for us!