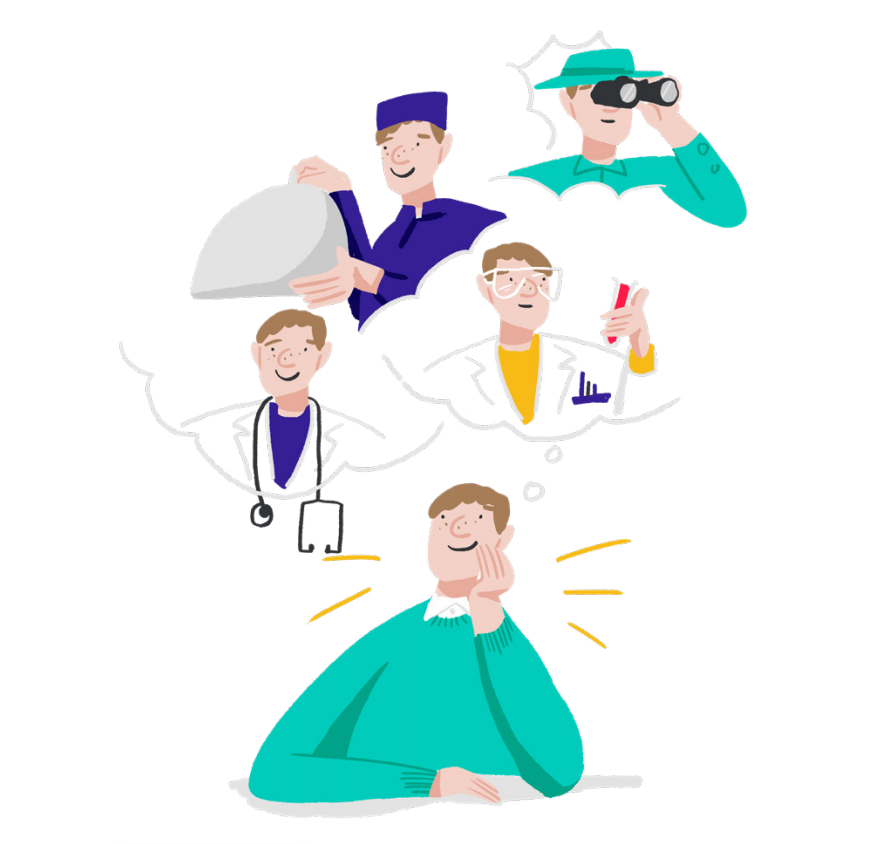 It's never too early – or too late – for teens to start planning their career. In fact, helping teens connect their school studies to their long term future can have a big impact on their motivation day-to-day. Last week we were joined by careers education experts Ryan Gibson and Mark Fox for "From School to Dream Job: how to plan for the future". Mark and Ryan both have years of careers educating behind them, and they've helped more than a few teens get on the right path to their future.
The evening was choc-ful of useful insights for both teens and their parents. Here are just 7 top pieces of advice from the evening to help you get your teen making the right steps from school to their dream job.
7 ways to help your teen plan their future
1. Encourage them to be proactive
The best way for a teen to find a career that suits them is if they work it out themselves. As a parent though, you can help a huge amount by asking the right questions and encouraging them to get thinking and looking.
Ryan says that "asking a teen what they want to do in the future is like asking them to think of a colour that doesn't exist". In other words – you can't know what you'll enjoy if you don't know what's out there. If your teen doesn't know what they want to do, a good first step is seeing what jobs are out there and testing their gut reaction. To get started, the National Careers Service lists hundreds of jobs and tells you what they're like and how you can get there.
2. Help them think about what they enjoy doing (and what they don't)
Rather than trying to find a job to aim for and then working out the path to get there, starting with the skills and activities your teen enjoys can make it much easier to find what they'll really love. As a parent, asking them what they enjoy the most at school, after school, on the weekends, and highlight particular skills that are involved in those roles can help them realise what they could be good at professionally. The Skills Builder website is a great free resource for helping teens with this.
3. Talk about it with them
Having an ongoing open conversation about their career planning is the best way to help them. Teens often don't even realise what their strengths are, and telling them what you think they're good at. Especially if they're really unsure
4. Ask them what problems they see in the world
Rather than searching for a really specific role that they'd like to do in the future, ask your teen to have a think about what problems they see in the world and care about solving. This can help them connect their passions to groups of professions, and then can narrow down from there based on skills they have and ones they'd like to work on.
5. Listen to what they've got planned
One of the most helpful things you can do as a parent is really listen to what they've got planned – or what they're not sure about. Instead of pushing them towards a particular path, you can help by encouraging them to develop an independent approach. Exploring their interests by talking about it with them, sharing resources and showing them different qualification types that are out there will set your teen on the best path to discovering the career path that's right for them.
6. Direct them to resources available to them
As a parent, you don't need to become a careers expert yourself. What you can do though, whatever your expertise, is push them in the direction of resources available to them: their school guidance teachers, online tutors and the big range of free online resources that are out there. For starters, have a look at the National Careers Service and the iCould website.
7. Help them evaluate opportunities
When looking at career opportunities – whether it's work experience, apprenticeships, school subject choices, universities or even degrees – teens often don't know how to weigh up their options. Here you can really help by asking probing questions to help them evaluate and work out what to go for. This can involve writing down with them the pros and cons of different options, including a bit of online research.
For work experience, you can also help them look out for the things that will make an opportunity really valuable – will they get 1-1 support from people in the workplace? Will they be given the chance to learn about the company? By helping them research and make decisions through open discussions, you're also setting them up well to work things out themselves in the future.
To hear all of Ryan and Mark's expert careers advice, you can watch the recording of the webinar right here. Check out the list of careers resources that they recommended below too.
5 free online careers resources for teens
For your free copy of our ebook, 'The World of Work, click here.