Rejection and setbacks can feel so rubbish, but it often helps to know that you aren't alone. In fact, you're in great company— with Alan Turing and Katherine Johnson, among others, who've also had bumpy rides on their way to better things. If you've recently had a knock back or just been having one of those days where it feels like nothing is working out quite the way you want it to, then check out these 8 characters from films (based on real life!) who've been through the wringer, but then ultimately came out on top.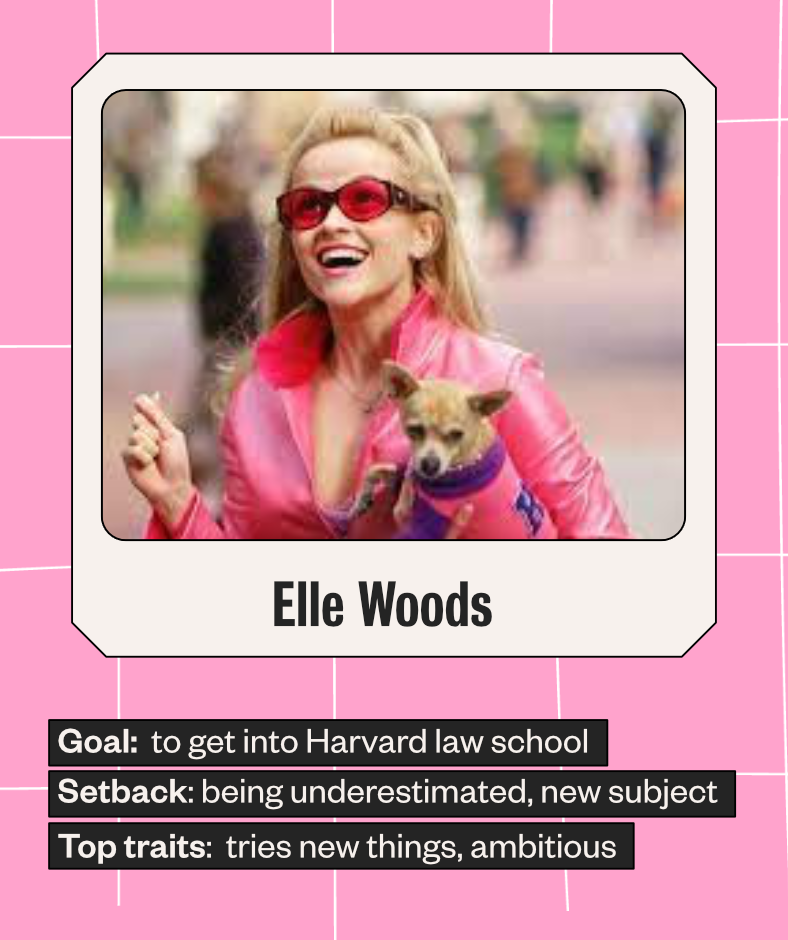 1. Elle Woods in Legally Blonde
Yes— the story of Elle Woods is actually based on a real person (Amanda Brown), the author of 'Legally Blonde'. In the film, Elle has been dumped by the love of her life because she's apparently not 'serious enough' (such a gent, her ex!). Rejection stings and understandably at first, Elle is devastated, and takes comfort in chocolates and her duvet. But she soon steps out of her comfort zone and applies the strong work habits she's learnt in fashion school to pursue a law degree at Harvard. It's far from a smooth ride when practically everyone she knows (even her own parents!) under-estimate her. But Elle's drive and the many hours she pours into learning a brand new subject not only get her into Harvard Law, but also make her a super successful student.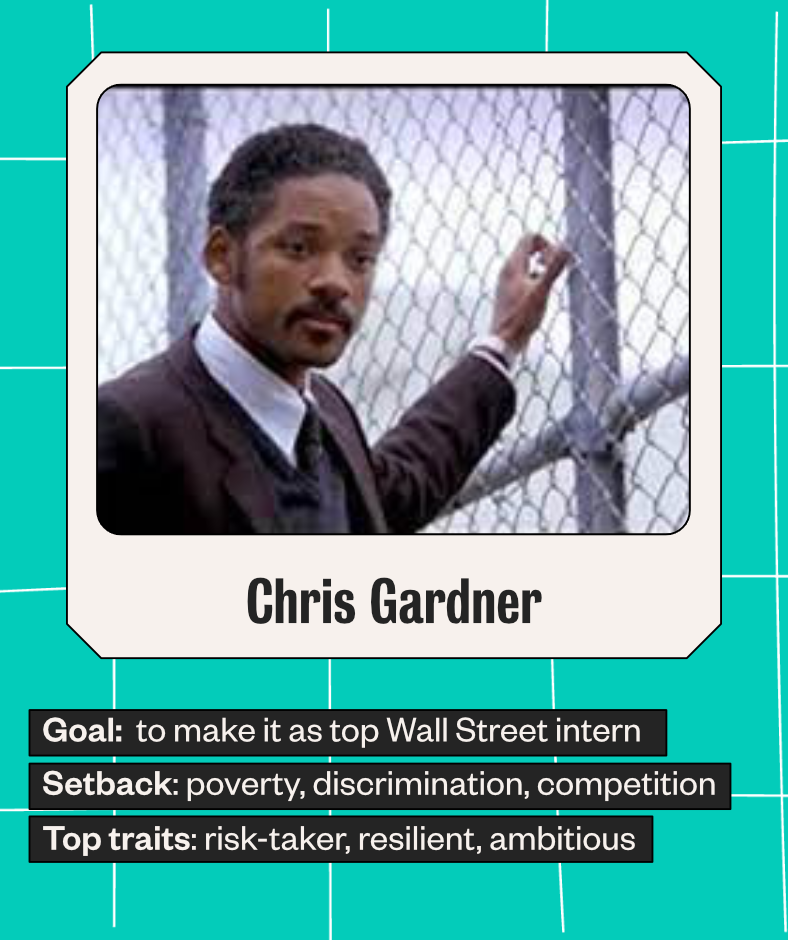 2. Chris Gardner in The Pursuit of Happyness
We really feel for Chris Gardner who invests his life savings in bone density scanners which sadly, no one wants to buy. When his wife leaves him, Chris is left with no money at all and his son to look after. To change his luck, he goes for a super competitive internship for a job on Wall Street. The trouble is that the 'interview stage' is many weeks long and doesn't pay a penny. Plus, there's no guarantee that he'll be the last of the 20 men standing. It's his resilience, his hard work and ambition to make a better life for himself and his son that make him stand out from the crowd. Get your tissues ready—this one's a real tear jerker!
3. Rudy Ruettiger in Rudy
More than anything, Rudy wants to play football for his favourite team at the University of Notre Dames. But Rudy (bless him!) is not the most athletic in build, and on top of that, he doesn't have the grades to get into the elite uni. But he studies so hard, gets a tutor— faces loads of setbacks, and never gives up. Other students who try out for the football team are physically much stronger, but they don't have the heart that Rudy puts into every single practice. He gives 120% every time he turns up on the pitch— and his coaches notice his efforts. The film has all the feel good vibes you want and is set against a beautiful autumnal backdrop.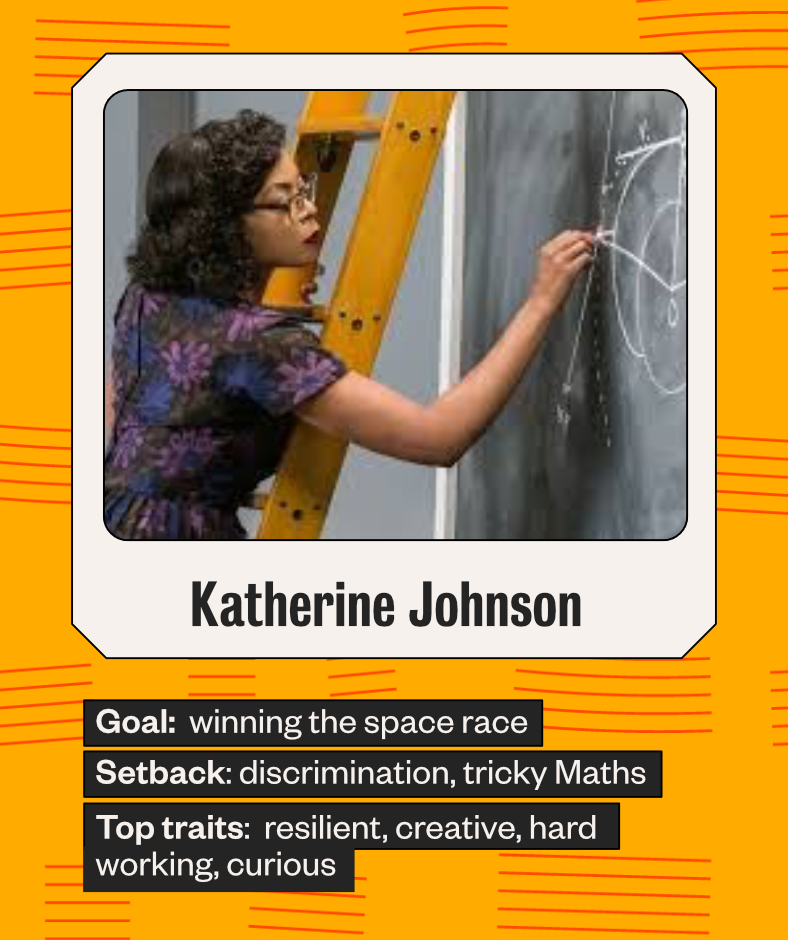 4. Katherine Johnson in Hidden Figures
In 1961, the space race was on and NASA was hiring some of the most brilliant minds to launch astronaut John Glenn into orbit. From a young age, Katherine loved Maths and could work out problems faster than any college professor. She, along with female African-American mathematicians— Dorothy and Mary, were brought in as 'human computers' to work out all the tricky Maths to get the ship into orbit. Katherine faces discrimination for being a Black woman and is constantly under-estimated by her team members, so her ride is far from a smooth one. When things go wrong on the ship, it's Katherine's out of the box thinking, teamwork and perseverance that helps get John Glenn back home safe. Prepare to feel inspired!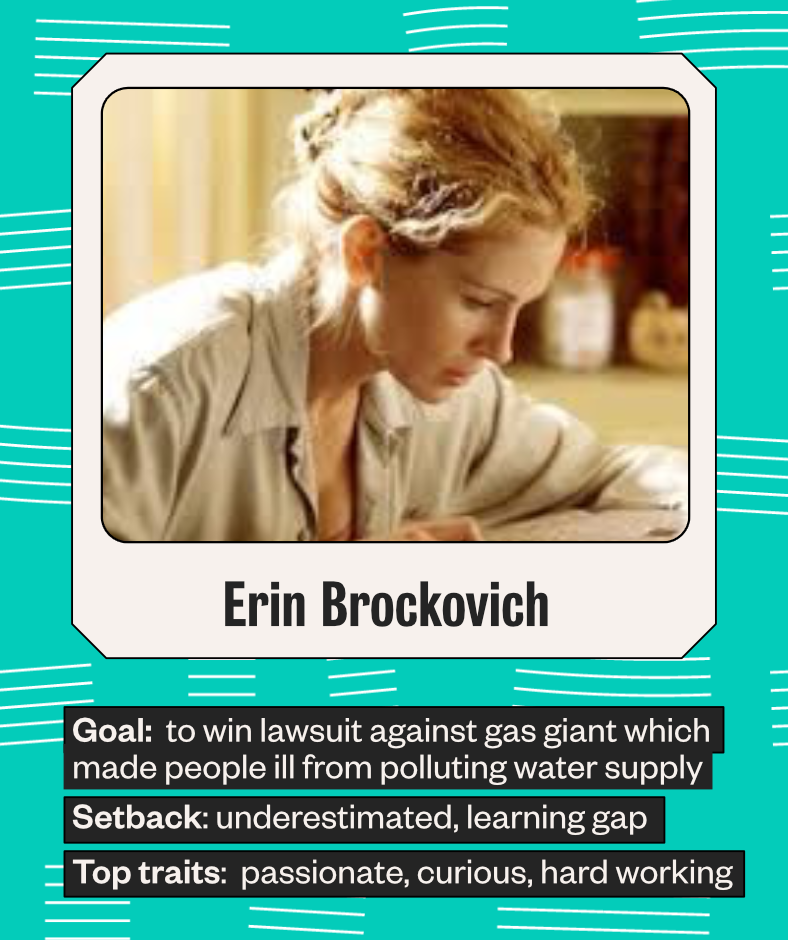 5. Erin Brokovich in Erin Brokovich
No one wants to hire Erin Brockovich. She doesn't wear the right clothes or speak in a 'lady-like' way. But she's got passion, and will roll up her sleeves to get things done. She bags a job (at last!) as a solicitor's assistant. Soon she uncovers a dark scandal involving a powerful gas company, polluting a town's water supply, making people very sick. Erin faces a mountain of obstacles in taking down the corporate baddies, but her determination to help the vulnerable, along with her curiosity and self-belief make her someone to reckon with.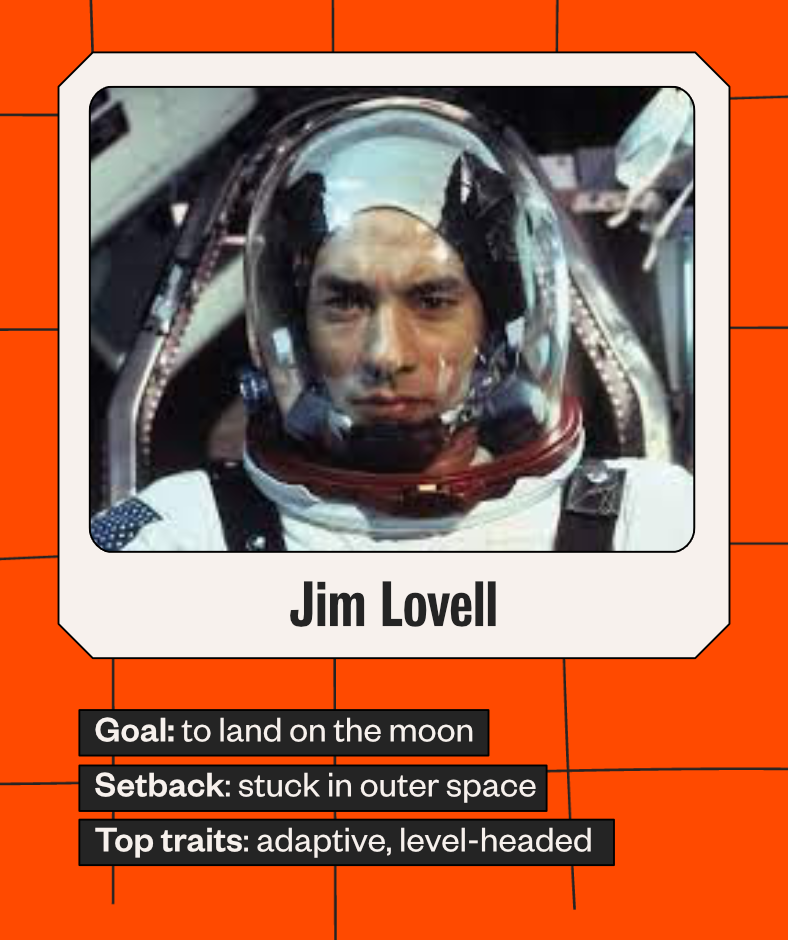 6. Jim Lovell in Apollo 13
Imagine being stuck in the hugeness that is outer space after an oxygen tank explodes on your ship. On top of that, it's freezing cold because you have to turn off the heating to save on energy. Plus, your personal space is cramped with three other astronauts who are breathing out CO2, making the air more toxic by the minute. Things can't get much trickier than that when you're on a lunar mission.
But astronaut Jim Lovell keeps a cool head, and works with his team to find creative solutions around their unexpected mishap, making Apollo 13 the mission dubbed as, 'a successful failure'.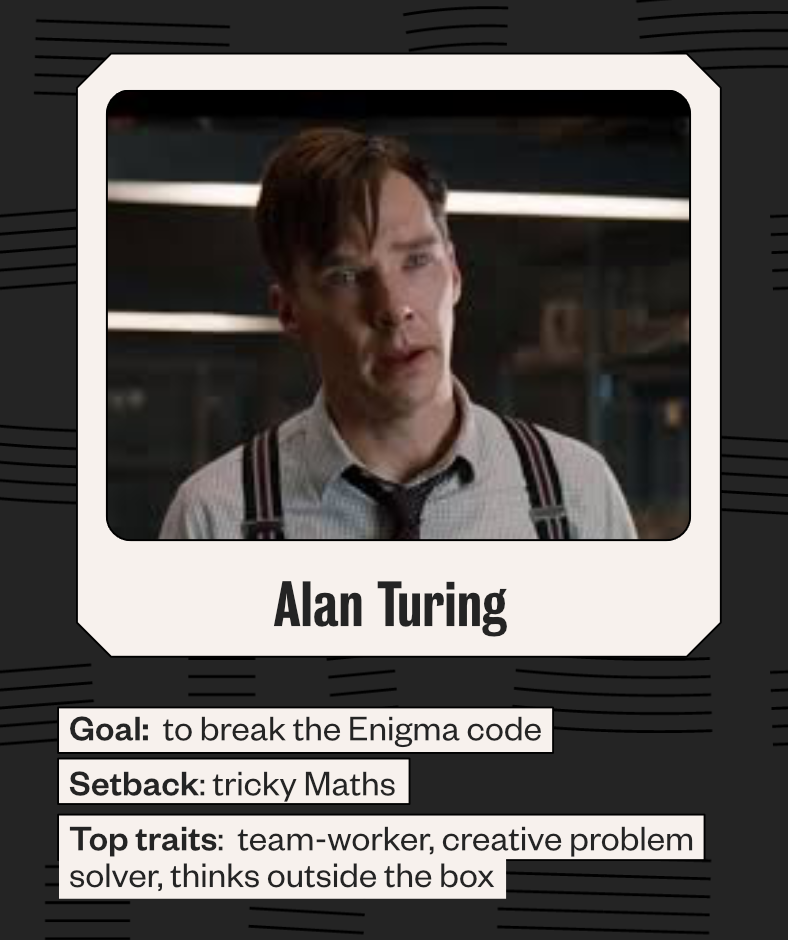 7. Alan Turing in The Imitation Game
It's WWII and the Germans are marching forward across Europe. Alan Turing and his team are charged with the hugely important job of breaking the Enigma code—a code used by the Germans to communicate their next strategic attack. What makes a good code breaker, you might wonder? Someone who doesn't easily give up, for one thing, and Alan Turing isn't one for quitting. And he isn't afraid of trying out new things, either. The rest of the team thought he was mad with the giant computer machine he was building to help break the code faster. Plenty of mistakes and setbacks happen along the way, but Alan doesn't give up and it's a good thing he didn't or else the world might look quite different today.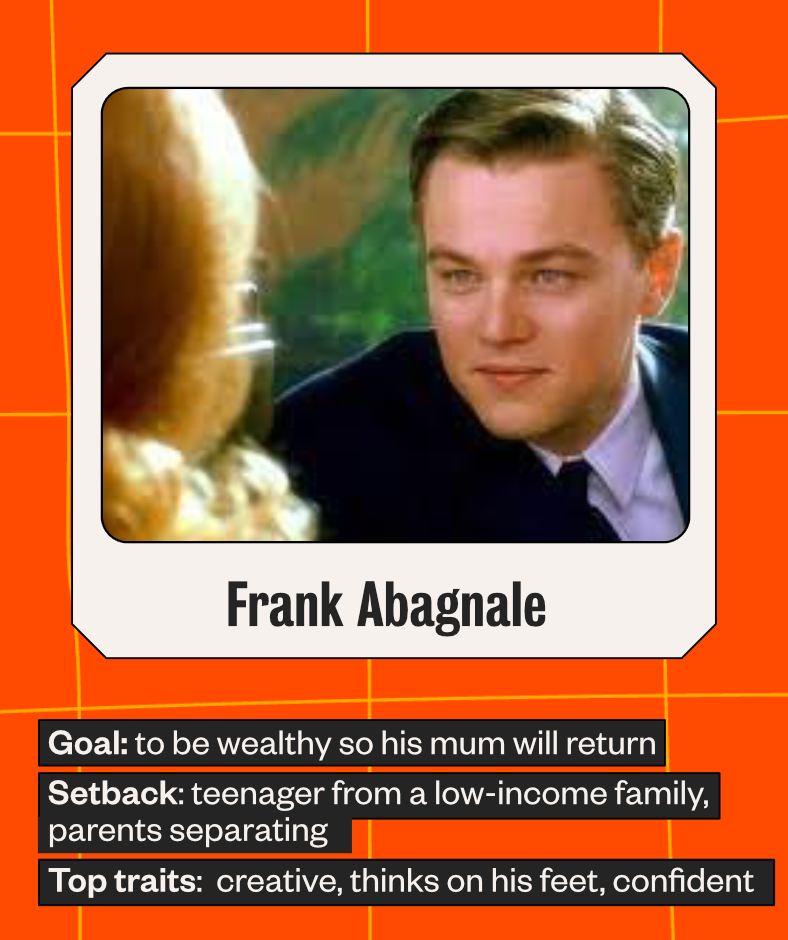 8. Frank Abignale in Catch Me if You Can
Now, we're not recommending that you forge cheques and create false identities for yourself, but there is something to admire about Frank Abignale's story. As a teen, he was able to trick others into thinking he was a commercial pilot, a doctor, a teacher, a lawyer—the list goes on. He put a lot of effort into researching these roles, sneaking into hospital wards to find out how to 'be' a doctor. Though he forged his law degree from Harvard, he actually passed the bar exam with the many hours he spent studying (proof he could have succeeded lawfully if he'd tried to!). His willingness to take risks and his ability to adapt to the new situation made him a super successful con man who would later share his skills with the FBI to take down fraudsters.
We've all got our own versions of rock bottom, but we can take some heart in knowing that it's totally normal and others have been there, too. Sometimes, it's just about trying a completely different tactic to get things moving the right way. Whatever the challenge—whether it's homework or your big dream, keep going!