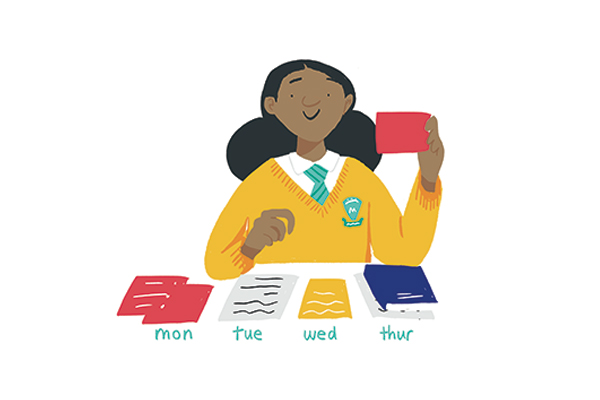 As many parents have found during lockdown, keeping a regular routine gives kids a sense of consistency and structure when they're at home for months on end. Since schools reopened for some year groups in England and Wales though, and some social distancing restrictions have eased, it's made it harder for many teens to keep the sense of calm that their routine gave them at the start of lockdown. And with different families adopting different levels of precaution, keeping teens calm and reassured through the Summer months is a top concern for many parents. Keep reading for our top tips.
Keep your routine (but shake things up)
If one or more of your children has gone back into the classroom, suddenly the notion of a school run may have resurfaced in your life. Even with just a day a week back in the classroom, seeing teachers and classmates again will be an exciting change for some teens, and shock to the system for others. For siblings still at home full-time, watching their brother or sister go back to school can throw a spanner in the works when it comes to staying calm and content too.
Shaking things up a little can be a really effective way to keep kids in a routine. If they've been focusing lots on just a couple of their subjects, dusting off their textbooks for neglected subjects (sorry, Geography) can help re-engage them with new material. For any topics they've been putting off, finding fun educational videos online, or watching documentaries on the subject can breathe new life into their learning. If they've been keeping the same study hours over the past few months, having a chat about another way their schedule could work can also help them have a sense of freedom while still keeping their learning on track. Seeing an online tutor at the same time each week can also make a big difference to a teen's routine – because our tutors are university students, they understand a lot of what teens are going through, and they offer reassurance and a confidence boost for kids while they also keep their learning on track.
(Still) make time for family time
If you've got teens who are back at school or out seeing friends again, keeping some protected family time in your weekly schedule will also help everyone keep a sense of consistency in the face of uncertainty. Whether it's having breakfast together every morning, or family dinner at the same time each day, for younger children and those not back at school yet, keeping some things consistent while so much changes around them can do a lot to keep them reassured.
See friends safely
Since the government in England allowed groups of up to 6 to meet outside, the possibility of a social life beyond Snapchat has become a possibility for teens again. At the same time, for any kids living with older relatives – or anyone who needs to shield from coronavirus – a fear of missing out has become familiar for many again too. Whatever the limitations on your child's social life right now, working out a regular way for them to see their friends – whether weekly video chats with different friends, meeting up in person at a social distance at the same time each week, or even having meet-ups in the garden if possible – will go a long way towards making life feel as normal as possible under the circumstances.