The summer holiday is long, and as well as chilling out, you can finally get to the stuff you wouldn't normally have time for. Like work experience! In a placement you can pick up new skills, meet professionals and have something new to add to your UCAS personal statement.
When you're ready to apply for work experience, you'll usually need to send in a cover letter and CV. Now you might be thinking you've got nothing to shout about.
But employers know you're young, and there are lots of skills you've picked up from school, clubs, or part-time work that make you a real catch.
So let's shine a light on your talents!
Writing a stand-out cover letter
If you don't already know, a cover letter is a formal letter that tells the company you're applying to who you are and why you're interested in working for them. The goal is to show the person reading your letter that you're the right person for the job, so that they check out your CV and then invite you to an interview.
There are a few things you can do to really make your cover letter stand out:
1. Do your research.
Find out as much as you can about the company and role as a first step. That way, you can also see if they're a good fit for you. It works both ways!
2. Personalise where you can.
Personalising shows you've taken extra time to research–and this is a sign to employers that you care! So include the name of the person who's reviewing your application, and add some info you came across in your research that made you excited about applying.
3. Why them?
Tell them why you want to work for their company – another chance to show off your research here!
4. Why you?
Explain why you're a good fit for the company and job. Here, you can talk about your skills and any work or volunteer experience that make you ready for the job.
5. Keep it simple.
Instead of using complicated words, keep it simple and make each sentence as possible.
6. Keep it short and snappy.
Stick to one page (about 3-4 paragraphs), and only add in info that shows you're right for this job (no need to overshare!).
7. Proofread.
Double-check your spelling and grammar and get someone else to triple-check it for you.
8. Be yourself.
At the end of the day, this is about you finding the right place to build your career, so you want to be real.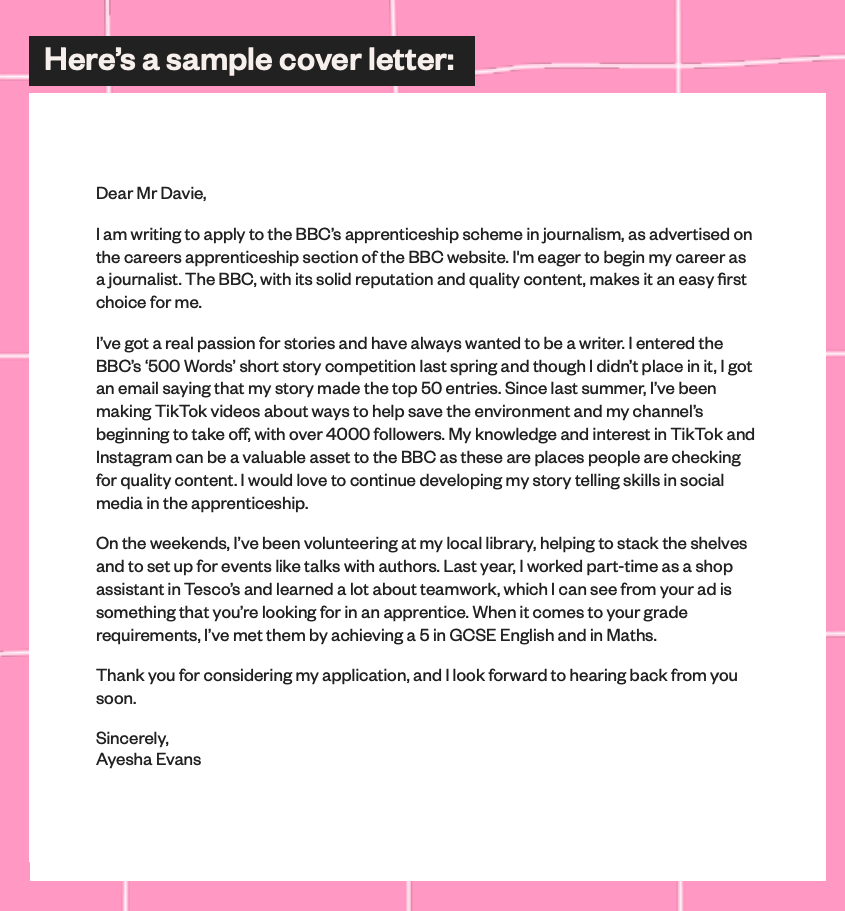 Getting your CV in the best shape
Just like there are lots of different ways to write a cover letter, CVs can also take different shapes. But every CV should be a summary that covers your education history, your skills and any jobs you've had. There are also some obvious things you'd include like your name and address, contact details, and a 1-2 sentence personal statement at the start. The point of the CV is to show your employer that you've got valuable skills and that you're dedicated to learning. Let's have a closer look at how you can do just that!
1. Have a brainstorm session.
Before you write your CV, think about all the things you're good at, and what you've accomplished so far. List them out and pick the top skills that you can back with examples– like how you're great with teamwork because you learned so much about it when you were part of a football team.
2. Look at other CVs for inspiration.
Seeing other CVs as examples (like the one on the next page) helps you with organising different sections. You'll also get a feel for the language– how it's all about getting to the point.
3. Keep it professional.
If you worked in a part-time job you didn't like, don't overshare about it. Just keep your CV focused on the skills you learned in that role. And make sure your email address is professional too. So if your email is skatergirl45453@yahoo.com, now's a good time to get a new one. Your name is always the best way to go.
4. Keep it short and sharp.
Cut out extra words you don't need, and keep it between 1-2 pages. If you've been busy and your CV is 4 pages long, cut sections that are less relevant. The hot-dog eating contest can go.
5. Proofread!
Like your cover letter, double and even triple check your spelling and grammar. Sometimes we can't see our mistakes anymore. So it's handy to have someone else look through it. Use a standard black font (like Arial or Times).
6. Tell the truth.
There's lots of great things you've done over the years and this is where you want to shout about it! If you stretch the truth, there's a chance you'll be asked about it at the interview stage, and you might get tongue-tied. So stick to the real (great) stuff you've actually done!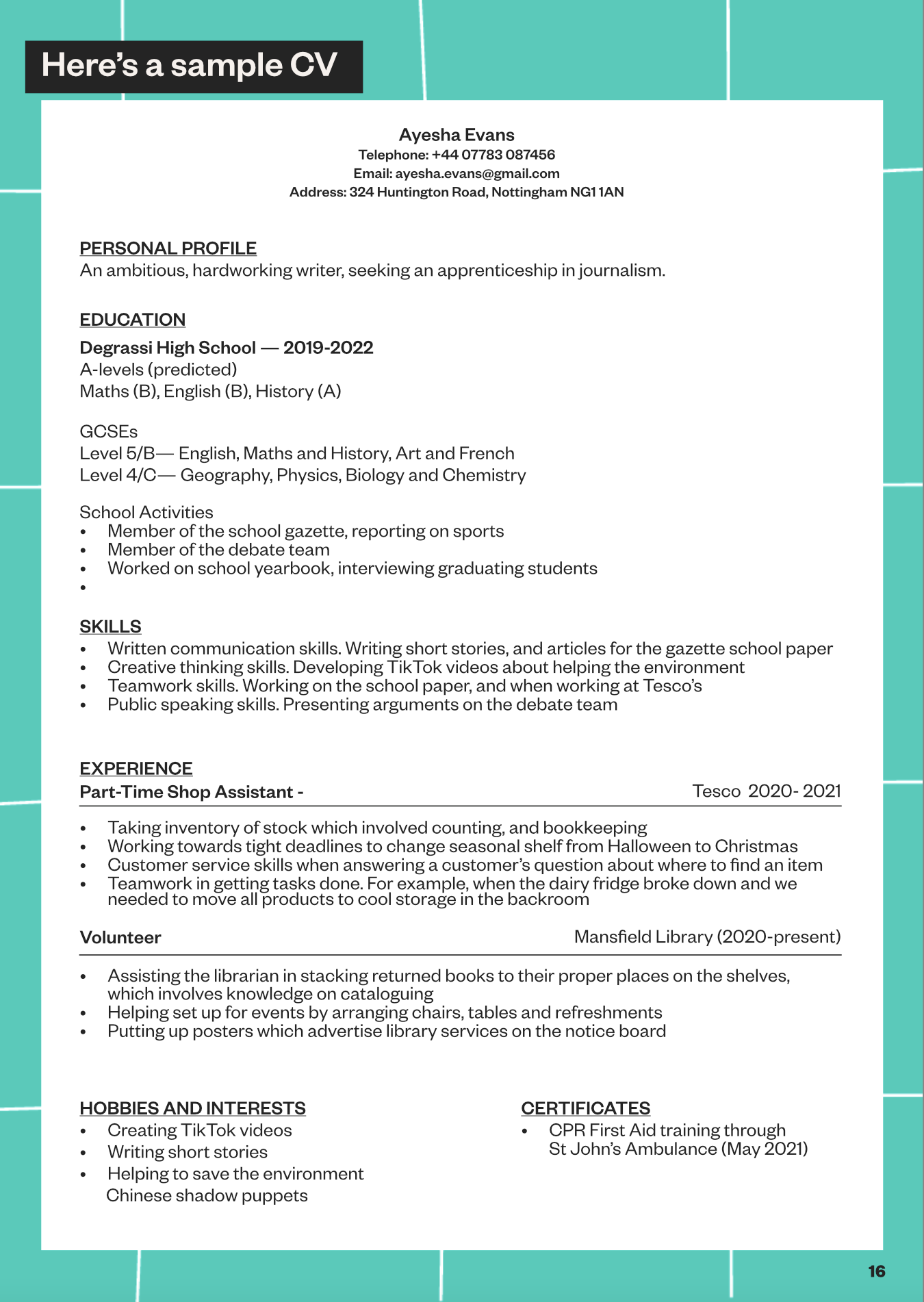 Applying for summer work experience can feel a bit overwhelming– especially if you've never done it before. But the thing to remember is that you've got qualities and skills that employers are looking for. What they all want to see is that you're up for a challenge and that you want to learn and grow.
When you've put your CV and cover letter together, you can look back and feel proud of what you've already achieved–and where you're headed next!
For more on how you can plan your future, check out our tutor guest blog.