Around 1 in 10 people in the UK have dyslexia, but the signs of dyslexia might be difficult to spot. 
With the right support, there's no limit to what dyslexic people can achieve. Lots of successful people have the condition, with chef Jamie Oliver claiming it as his superpower. 
It's thought that Albert Einstein, Pablo Picasso and Leonardo da Vinci also had dyslexia. 
But, for kids trying to keep up at school, those with dyslexia can feel added pressure. They're more likely to have low self-esteem and feel less motivated.
Having dyslexia doesn't affect your child's intelligence at all, however, without the right support, kids with dyslexia can fall behind and convince themselves that they're destined to fail. 
They often just need help to explore different ways of learning – until they find strategies that work for them.
Here, we share the signs of dyslexia and dive deeper into the ways you can support your dyslexic teen.
What is dyslexia?
Dyslexia is a learning difficulty that mainly causes people to have problems with reading, writing and spelling. It does not affect a person's intelligence – it comes in different forms and affects people in different ways.
Someone with dyslexia will struggle with 'sounding out' words in their head or out loud, and they can often read letters and numbers the wrong way around. With the right help, they can still do exceptionally well in academic subjects. 
They can also be very strong in other areas – they might have a creative, musical, physical or social flair. 
Signs of dyslexia in teens
Here are some of the signs and effects of dyslexia:
Difficulty reading aloud or copying out text

Difficulty concentrate when reading or doing homework

Particularly bad spelling, with some letters or numbers written the wrong way round

Writing slowly or struggling to finish tests in the time set

Feeling very anxious about studying

Getting in trouble at school for not listening or falling behind

Struggling with short-term memory
It's also possible to have one or a few of these symptoms and not have dyslexia – so try not to jump to conclusions without getting a professional diagnosis.
Dyslexia can also have the same symptoms as long-sightedness, short-sightedness or ADHD, so pinpointing the source of their difficulties before taking action is really important.
If you think your child has dyslexia
The first thing to do is ask their school to test them. Every school is legally required to have a 'SENCO' or a Special Educational Needs Coordinator, and they will be able to help. 
It can often be a huge relief for kids to be diagnosed as dyslexic – it can be helpful for them to realise that their brain just works in a slightly different way. 
How can school support your teen?
If your child gets diagnosed with dyslexia, this means their teachers can be told that they need extra help. They will also be eligible for extra support outside class (if the school has the resources) and extra time during exams. 
If you're worried about making sure your child gets the right level of support, it's a good idea to arrange a meeting with the Head of Year or guidance teacher. You can also mention your worries with individual subject teachers at parents' evening.
How can you help your dyslexic teen at home?
After noticing signs of dyslexia and helping them with a diagnosis, try to encourage your teen to ask for help and get organised for their studies and exams. 
In the classroom, your child's teacher might have over 20-30 students in a class, so it can be hard for them to give every teen the 1-1 support they need. But, creating a safe space where they feel comfortable and encouraged at home, can help them stay on track. 
Here are our top tips for creating a dyslexic-friendly study environment at home:
1. Find reading they enjoy
Even for teens without reading problems, the books on the school syllabus don't always get them excited. If your child can find books they enjoy, it can spark a love of reading and even help them improve their reading skills. 
Whether it's crime, graphic novels, books about artists or a book of jokes, encouraging them to find reading material they're excited about can be a big help. 
Audiobooks can also help. Pairing the written book along with the audio can be a good strategy for supporting their reading.
2. Help to personalise their learning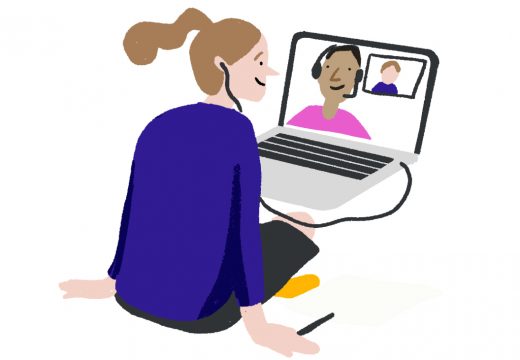 People with dyslexia often learn best by taking in the material in lots of different ways. Staring at a book and copying things out might not help the information stick (though it can be a start). Drawing a mind map and pictures might help them remember better.
Some dyslexic students find listening to information and instructions especially helpful. For example, they might find it easier to know how to get on with a project if someone explains it to them. You can help them by going over any big projects, and then ask them to tell you what they need to do. 
When they're older and more independent, encourage them to do this on their own– read the questions or instructions aloud for their homework before they get on with it.
3. Keep a dedicated study space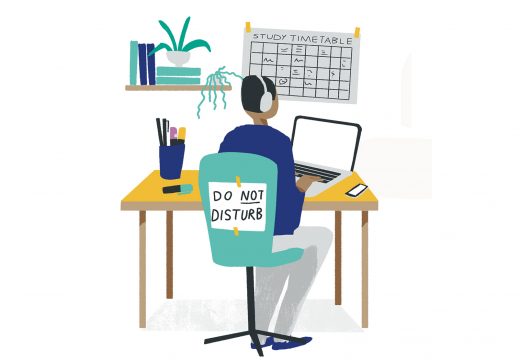 Having a dedicated desk space in a quiet corner of the house is key to helping your child stay organised. This is the place where they'll keep their books, notepads, timetables and pens – everything they use to learn.
Especially if they suffer from anxiety, having a space at home where they know they can sit down and concentrate can make a big difference. Read more about how to make your home a revision-friendly environment here.
How can you help your dyslexic teen with exam prep?
Exam time can be especially scary for teens with dyslexia. As well as the results pressure that all teens feel, dyslexic kids have an extra challenge. But with the right tailored support, they can do just as well (or better!) than their peers. 
If they've been officially diagnosed and got everything sorted with the school, they should have extra time to finish their exams, and possibly the use of a laptop.
1. Help them get organised
Avoid any last-minute panics by helping your teen be as organised as possible. Start with creating a visible exam timetable and a revision planner. Use folders with all of their subject syllabuses printed and sorted. This will help them make sure they pace themselves and go over every topic they need for exams. 
Check out these tips in our revision handbook – from mind maps to productivity planning, there's plenty here to help every type of learner.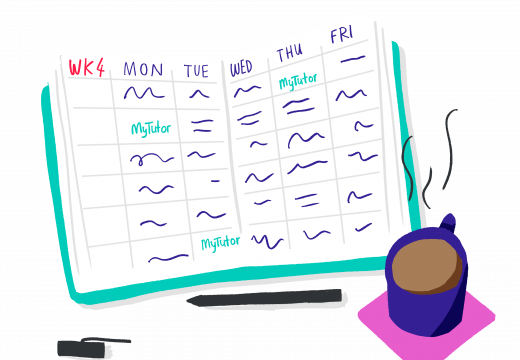 2. Encourage them to study with someone
Often kids with dyslexia work best in a social setting and not just sitting on their own with their books. You could help them organise different study buddies a couple of days a week. This gives teens the chance to test each other and help each other out with tricky topics. 
If their school offers afternoon or holiday study clubs, this can be another effective way to learn in small groups. Our expert tutors also run MyTutor Squads – free group tutorials to help students break down tricky subject topics and build up strong study skills.
3. Factor in regular breaks
If your child is working extra hard to revise their course material and push through their reading difficulties, it can be tiring. By working in regular breaks to their studying – we recommend roughly every 45 minutes – they'll feel less overwhelmed.
The Pomodoro technique is a great time management tool for helping them break up study and downtime.
4. Help to boost their confidence
Even with these tools up their sleeves, teens with dyslexia are more likely to have low confidence and anxiety during exam time. By regularly reminding them that dyslexia has nothing to do with their intelligence and that you're proud of the effort they put in, you can help take some of the pressure off. 
5. Celebrate what they're good at
It's also worth reminding your teen that reading and academic study are only one part of life, and there are lots of other things they can be good at. Your child might be really good at sport, at art, building things, cooking – whatever they do well and enjoy will help them feel proud of themselves. 
If they don't have a passion yet, be on the lookout and let them try new things out from time to time until they find something that sparks excitement.
6. Get some extra help
If you've spotted the signs of dyslexia and have a diagnosis, you can double up the support from school with a one-to-one tutor. They can provide the support they need and a tutor can be a lifeline for kids with topics they're behind on. 
If they struggle with something in class that day, a tutor can go over everything they need at their own pace. They can focus specifically on boosting confidence, and they can help make a revision timetable and build up their study skills. 
We've seen lots of success stories with dyslexic teens using MyTutor ahead of exams. One parent, Vicky, told us: "My daughter is very dyslexic and has processing difficulties. She was predicted an E at A-level and got a C. 
"The one-to-one tutor is what gave her the time to explore the things she didn't quite get first time, to go over stuff that was covered quickly at school, and most importantly it gave her the belief she could do it."
If you'd like to find a one-to-one tutor to help your dyslexic child, book a call with one of our tutor experts – they will listen to your needs and help you find the perfect tutor or search our tutors here.